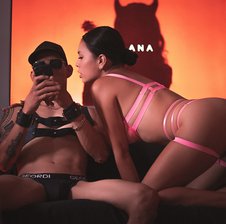 Joao-erik
Sekti
Pranešti prisijungus
25, Skorpionas, España, Barcelona
Paskutinis prisijungimas:
2023-12-11 03:53:07
Slaptažodžiu apsaugotos nuotraukų galerijos

Svarbi
Joao-erik
informacija
| | |
| --- | --- |
| Lytis | Pora moteris + vyras |
| Domina | Moterys, Vyrai, Poros, Trans |
| Amžius | 25 |
| Ūgis | 5'7" - 5'9" [170cm - 175cm] |
| Svoris | 80 - 90 kg [180 - 200 lbs] |
| Plaukai | Tamsūs |
| Akys | Rudos |
| Kilmė | Indijos |
| Kalbos | Prancūzų, Ispanų |
| Gimtasis miestas | Barcelona |
| Intymi šukuosena | Apkirpta |
| Krūtinės dydis | Didelė |
| Užpakalis | Didelis |
In our realm of indulgence, I find myself drawn to the captivating dance of sensuality, the alluring realms of boundless fantasy, and the artistic intimacy of conversation that ignites the depths of my desires.
Hello everyone! We´r Sasha & Norris, an erotic and lingerie couple model, with little experience in the adult entertainment industry, but happy to be here.
I characterize myself as having pronounced curves, tattoos, a natural body, joy and good energy
I am an outgoing person and passionate about my work. I love exploring my sensual and artistic side and always strive to provide a unique and fulfilling experience. I am friendly, professional, and respectful, and I enjoy interacting with my audience both on and off camera.
I understand the importance of privacy and confidentiality in this field. Every interaction with me is treated with the utmost discretion, and your personal data and experiences will always be kept confidential.
If you are interested in talking to me or want to know more about my show, do not hesitate to write me a message.

I hope to have the opportunity to meet you and fulfill your most exciting fantasies!
Dear viewers,
First of all, I want to thank you for your constant support and for joining me on my streams. It is a pleasure to be able to share special moments with all of you. However, I would like to talk to you about a few things that turn me off during my streams that I would prefer to avoid to ensure an enjoyable and respectful experience for everyone.
Offensive language: One of the most important aspects for me is to maintain a friendly and respectful environment. The use of offensive language, insults or derogatory comments towards me or other viewers will not be tolerated. I want this to be a safe and welcoming space for everyone, where we can enjoy ourselves and have fun together.

Disrespect: Mutual respect is essential. I will not tolerate any kind of disrespect towards me, my boundaries or any other viewer. Disrespectful comments or behavior, including harassment, discrimination, or any form of verbal violence, will not be tolerated and will be removed immediately.

Disrespectful Requests: While I appreciate your suggestions and wishes, it is important to remember that each person has personal limits and preferences. I will not accept requests that make me feel uncomfortable, that are illegal or that go against my principles. Respect my decisions and let's enjoy together what is within my limits.

Spam behavior: Constant spam of repetitive messages, links or promotions interrupts the flow of the transmission and negatively affects everyone's experience. I ask that you avoid spam of any kind and focus on interacting in a respectful and meaningful way.

My goal is to provide you with a unique and satisfying experience in each transmission. I am here to share special moments, have fun and create a positive community. I appreciate your understanding and cooperation in maintaining a respectful and exciting environment.

Thank you for being a part of my community and for your continued support!

With love, Sasha y Norris
Ką mes darome per web kameras:
Mėgėjiški Joao-erik klipai

50 žetonų
1:02

30 žetonų
1:44

66 žetonų
3:25

69 žetonų
3:03

79 žetonų
2:50

89 žetonų
2:51

85 žetonų
1:45
1

imagine how much fun we can have with this toy
Skaityti daugiau
2

Skaityti daugiau
3

Skaityti daugiau